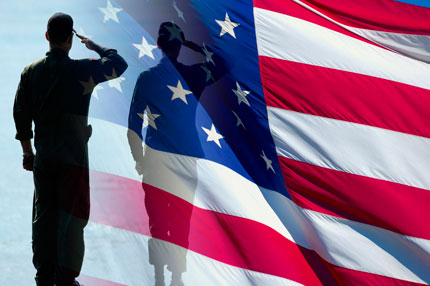 It's been a tradition at our public events to ask all of the men and women who have proudly worn the uniform of the United States of America to stand and be recognized.
They are our heroes and all deserve our admiration and respect. While we normally don't single out individuals on occasions like today, I wanted to share a little about one soldier who is close to us because I believe he embodies the spirit of what makes all of our veterans special.
His name is John Moisan. He's a Vietnam-era infantry officer who always puts the needs of his fellow soldiers ahead of his own. He's in the battle of his life right now and he's courageously beating cancer.
John is an unsung hero among his fellow veterans because he was the behind-the-scenes man in planning and running memorial events for tens of thousands of World War II and Korean War veterans, as well as his crowning achievement: the Vietnam Veterans Welcome Home and Memorial held in Pierre in 2006.
John's dedication and work on the Vietnam memorial, as well as the others, wasn't just another event he planned as a state employee. It was a personal mission for him. He saw the disrespect shown to Vietnam vets when they came home from their duty, many of them injured, wounded or scarred for life. He saw the torment many felt in the years after they came home, and John believed the memorial was a way to heal.
That healing came through in ways that even John didn't imagine. He now has a treasure chest of letters from people who survived the hell that comes from war, yet now know they are appreciated. Whether it was the soldier who reunited with his buddies he hadn't seen since 1971, the wife who could finally talk with her husband about the war after three decades of silence, or the corporal who came to grips with knowing that he was the lone survivor from his platoon, they all shared one common bond: someone said, "Thank you for your service. Please stand and be recognized."
Today is Veterans Day and we should show our gratitude to each and every person who has served. You may have a "John Moisan" in your life; a veteran who was willing to put his or her life on the line to protect our freedoms. If so, I encourage you to say "thank you" and let them know that you appreciate their service. Because, without these valiant men and women who proudly wear the uniform of the United States of America, our great nation would cease to exist as we know it.
Mike Rounds