Endorsements
Senator Mike Rounds is humbled by the support and endorsement he has recieved to date:
National Rifle Association: A+ rating and endorsed. We can count on Mike Rounds to stand up for our Constitutional freedoms in the U.S. Senate.
National Right to Life: We strongly commend you for maintaining a perfect 100% pro-life voting record during your senate term.
Tea Party Express: Tea Party Express, the nation's largest grassroots Tea Party political action committee, is pleased to announce its endorsement of Senator Mike Rounds for re-election in South Dakota.
US Chamber of Commerce: 100% rating and endorsed. "In difficult times, we are reminded of the importance of having leaders that understand the genius of the American system of government and free enterprise and who are willing to tackle the hard problems that confront our nation," said U.S. Chamber CEO Thomas J. Donohue. "As we take on this pandemic and work to not just reopen our economy, but return to growth, and expanded opportunities for all Americans, we need leaders like Senator Rounds, who have a proven track record of legislating responsibly and standing up for good policies. The U.S. Chamber is proud to lend its endorsement to Senator Rounds and looks forward to partnering with him in the future."
Family Research Council: True Blue Award – 100% Pro Life/Pro Family voting record
Susan B. Anthony List: A rating
American Conservative Union Foundation: Award for Conservative Achievement
Endorsement from Kevin Thom, Pennington County Sheriff
I am writing in support of United States Senator Mike Rounds. In my former role as Director of the South Dakota Division of Criminal Investigation (DCI) I had the privilege of working with Senator Rounds while he was then serving as our Governor. In his role as our Governor, he was always supportive of law enforcement, and for that matter, all first responders. With his strong support, we were able to construct the George Mickelson Criminal Justice Center in Pierre. The Center continues to serve first responders today and provides services that touch every community in our State.
For the past nine years I have served as the Pennington County Sheriff. In this capacity I continue to work with Senator Rounds on public safety issues. He is responsive to the needs of law enforcement, and not just in South Dakota, but on a national level. He does not hesitate to stand alongside law enforcement and offer his support.
We are fortunate to have a person of his caliber who is willing to continue serving the citizens of our state and of our country. Serving as a United States Senator is not an easy task. In each public office he has held, Senator Rounds has done it with professionalism, integrity and the strong South Dakota work ethic.
In times of crisis, like our current COVID-19 pandemic, it is more critical than ever to have an experienced Senator leading the charge for South Dakota at the federal level. I have a high level of trust that Senator Rounds is the right person to lead us through a crisis.
Please join me in supporting Senator Mike Rounds in his re-election bid for the United States Senate.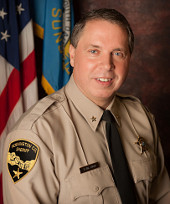 Kevin Thom
Pennington County Sherriff
Support from South Dakota's Conservative State Legislators:
STATE REPRESENTATIVES
David Anderson
Doug Barthel
Arch Beal
Tom Brunner
Kirk Chaffee
Drew Dennert
Fred Deutsch
Mike Diedrich
Mary Duvall
Caleb Fink
Bob Glanzer
Tim Goodwin
Spencer Gosch
Lana Greenfield
Randy Gross
Dayle Hammock
Jon Hansen
Jean Hunhoff
Kevin Jensen
Chris Johnson
David Johnson
Lance Koth
Isaac Latterell
John Mills
Paul Miskimins
Tina Mulally
Jess Olson
Herman Otten
Marty Overweg
Carl Perry
Kent Peterson
Sue Peterson
Doug Post
Lee Qualm
Tony Randolph
Nancy Rasmussen
Tim Reed
Tim Rounds
Tamara St. John
James Wangsness
Kaleb Weis
Marlie Wiese
Mark Willadsen
Nancy York
Larry Zikmund
STATE SENATORS
Jim Bolin
Rocky Blare
Gary Cammack
Blake Curd
Bob Ewing
Brock Greenfield
Phil Jensen
Josh Klumb
Jack Kolbeck
Kris Langer
Ryan Maher
Jeff Monroe
Al Novstrup
Ernie Otten
Jeff Partridge
Arthur Rusch
Lance Russell
Lee Schoenbeck
V.J. Smith
Deb Soholt
Jim Stalzer
Wayne Steinhauer
Margaret Sutton
Jim White
Jordan Youngberg